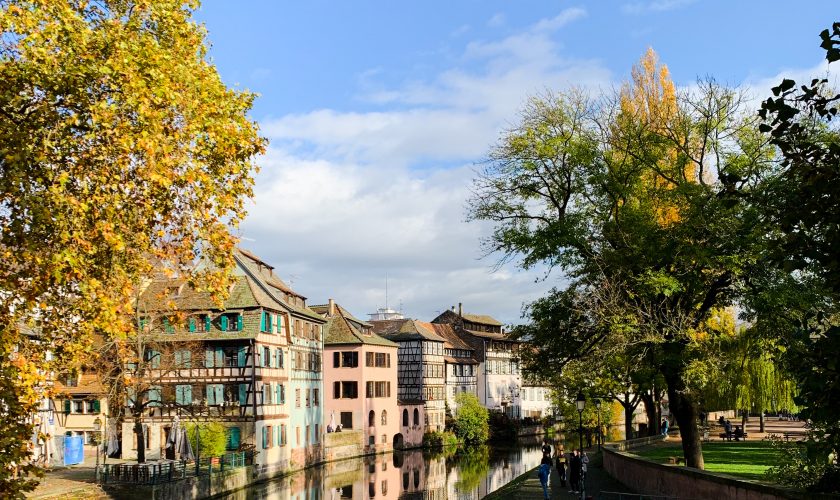 My personal highlight: My soul feels home on the water, a Gourmet Festival on a boat is THE a foodies happy place!
Welcome to Excellence Gourmet Festival.
A 2-day gourmet trip between Basel and Strasbourg that takes place every autumn. This year from October 18 to November 24, 2019. Booking takes place through the travel agency Mittelthurgau, click here right away, if you like to book a slot. Cost start at 285 CHF to 500 CHF per person (price vary depending on the guest gook). The transfer, overnight on the boat, food and breakfast are included in the price.
What to expect on the gourmet trip?
Excellent top cuisine, 48 Michelin stars and 560 Gault Millau points, a dedicated crew, live music and a breathtaking sunset on the Rhine river. Sounds like pure relaxation for soul and palate, doesn't it? The concept of the Excellence Gourmet Festival, taking place this year for the 7th time offers an amazing choice of well renewed top Chefs. 39 endowed creative cooks from Switzerland and the world surprise foodies of all ages. Everything is prepared fresh and ad hoc on the boat. The evening program is moderated by different Swiss celebrities as for example Sven Epiney or Christa Rigozzi during my attendance. Their interaction with the Chefs was excellent, they reveal a lot of insights of the Chefs with their interactive dialog between every course. The atmosphere is very relaxed. While dining you don't even notice how smooth the ship moves to on the river!
A 2-day gourmet trip with sightseeing, culinary and complete relax on the river
The journey starts with the transfer to Strasbourg by a comfy bus. In Strasbourg you get time to stroll through the city either by yourself or with an organized guide. In the early afternoon there is a transfer to get on board of one of the Gourmet boats. In my case it was the Excellence Princess. After the check-in in my Junior Suite with spectacular view over the Rhine river a welcome aperitive with sweets, salty snacks and live music everyone is set to start the gourmet experience. The perfect chance to get to know other foodies on board and discover every cozy corner of the Excellence Princess!
My favorite spot: one of the sofas in the glass covered skylounge. Here is where I slurp happy and full of excitement my aperol spritz!
The Culiniray program – Chef Flynn McGarry from New York (Restaurant Gem)
The dining highlight of my day: Flynn McGarry from the Restaurant gem in New York. Media describe him as the a prodigy of cuisine. Listening to the interview I immediately understood, that he followed very early his idea and passion of cooking. And guess having a family around that understands someones passion is something unique you can ever wish. But still, yes, it's very impressive that he started at the age of 10 and now with 20 it kind of seems that lot's of his dreams are already fulfilled! Flynn gives me the impression of a very humble, creative and somehow mature personality with his young age! Obviously he discovered very early what he wants to do in his life and it is motivating, feeling the light and ambitious vibes he has. The interview held by Sven Epiney during the evening revealed a lot of funny insights, too.
The menu comes with a wine pairing. My favorite drop: the Carmelo Rodero Reserva, 2014, Bodegas Rodero, Ribera del Duero/Spain.
The menu at a glance
Starter: Scallop Chips with raw scallops and preserved citrus  – layers of Kohlrabi and pear
1 course: Lightly cooked beet "ceviche" with salted plums and smoked chili
2 course: Grilled cabbage with oyster and grilled kale emulsion
3 course: Layers of squash and rutabaga with gruyere and black pepper
4 course: Celery root schnitzel with truffels and rye
5 course: Smoked and roasted duck breast with radicchio and duck xo sauce, salad on the side stew of druck and grilled cicorino rosso to share
Dessert: Quince granita with sage semifreddo
The combination of flavors, ingredients, spices and herbs used made that mainly focussed plant based menu very surprising but in the same time simple and comforting. The celery root schnitzel with the super crispy layer was fabulous yummy.
My  favorite dish: the pumpkin in a creamy, tasty gruyere sauce, perfectly balanced, a dish that I will try to cook at home! The dessert was a sage semifreddo and a quince granita, very mediterranean and a true delight to end the event in glory!
Accommodation on the maritime lady
The Excellence Princess gives you all comfort you can think of. I would describe it as a modern and elegant Swiss Grand Hotel on water! Find several options where to spend your free time. Choose between the glass covered skylounge, outside on the terrace or the elegant bar in the middle deck. In the mood of sauna or fitness? That's available, too!
On the boat are 93 cabins with shower/bathroom, air conditioning, Sat-/TV, minibar, hair dryer, french balcony, spacious windows. Find three different categories of cabins: In the upper and middle deck: 16 m2 and a Junior Suite with 20 m2, both with a frz. balcony, double bed or single beds. Under deck: Cabin with 13 m2 single or double bed.
The life on board feels safe due to the very robust construction properties of the boat.
A very warm thank you to all of the staff on board that made my stay memorable and to the agency Pantarhei that invited me to this glamorous mini-holiday on the water.
In the mood of some more travel and food stories? Find inspiration here.