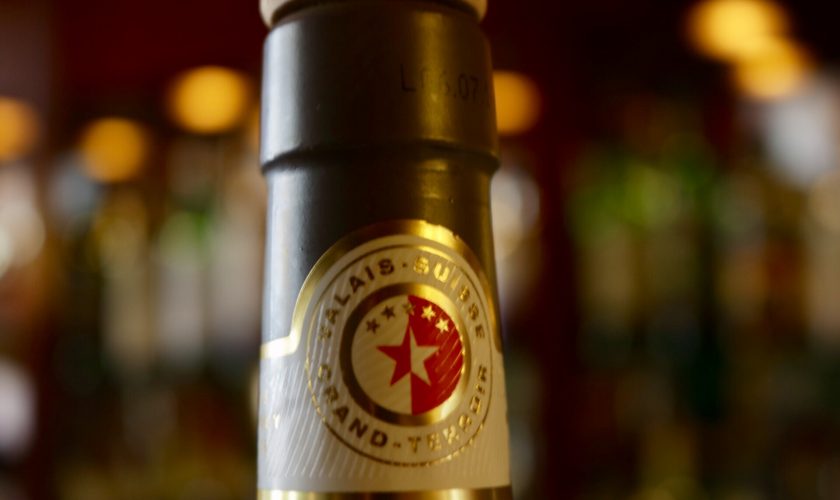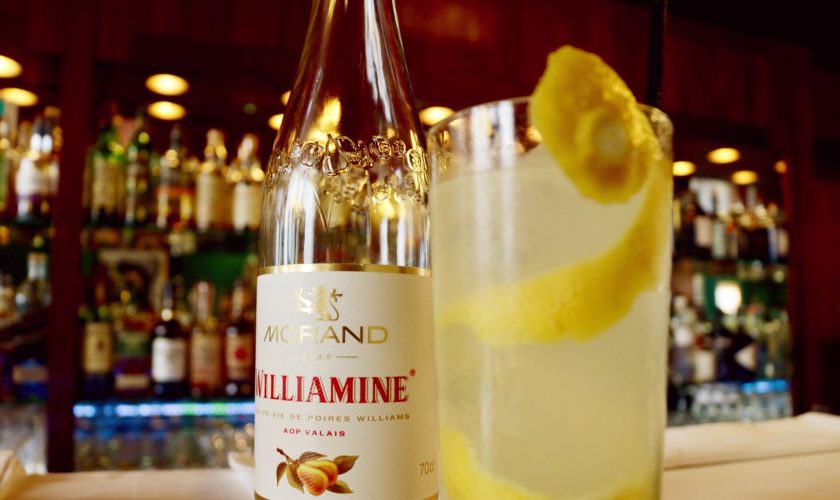 This summer I discovered a new way of enjoying cocktails. There is a Schnapps, or let's call it Eau-de-vie branded Williamine from the company Morand. It's made of Swiss William Pears originating from the region of Wallis. My first thought when hearing that Schnapps can be mixed into a cocktail was bit skeptical. After having tried it with different sweet components as for example home made lemon/orange sirup I got fascinated from its mild and fruity taste.
On tour through Zurich Bars to find Summer Cocktails with Williamine
A Zurich blogging tour through some Cocktail Bars showed me how to combine this delicious schnapps best. My tour started at Kronenhalle Bar where Christian, an experienced Barkeeper in town, mixed Williamine in a simple way with some Lemon skin, Bitter lemon and a flower flavor called Blütenzauber of the brand The seventh sense. By the way, Restaurant Kronenhalle has probably the best Zürich Geschnetzletes in town. Get more on my foodguide here.
I continued the summer cocktail tour at Tales Bar located at Selnaustrasse. Here Jakob mixed Williamine with egg white, fresh lime juice, home made lemon/orange sciroppo, orange bitter and maraschino. This combination was super sweet and my favorite I have to say.
My last stop was at Cinchona Bar at 25Hours Hotels Langstrasse. Here Sebastian mixed the Williamine with Ginger Beer and some lime juice. Their signature cocktails are with Highballs. I stopped by here in the afternoon to follow their philosophy of Daydrinking! I absolutely enjoyed that one, too!
Which is your favorite way to drink Williamine? Do you prefer a sweet, dry or sour cocktail?
Win a bottle of Williamine!
I have one bottle of Williamine for you. You can perfectly enjoy it at home, too. Maybe even pure for cold winter days in a hot tea.
Here is the question:
I enjoyed Williamine as a Cocktail at Tales Bar. The Williamine Cocktail is called LeeLoo. This name is of a caractere that plays in a movie, do you know which one it is?
A) Lord of the Rings
B) Games of Thrones
C) The Fifth Element
Send me your answer at marina@lovefoodish.com or comment below by September 22, 2017 and enter to the price drawing. Follow me on instagram !
Leave your comment here!

Who is Williamine and how is it produced?
A premium Eau-de-vie produced in the Swiss region of Wallis made of the Williams pear AOP. In this area of Switzerland the climate is just ideal to give these fruits an intense, harmonic fresh taste. The William pears are picked green. They mature in crates until they reach the ideal maturity level, then they are sorted out, crushed and fermented. After they are distilled and stored at least 6 months before they are sold on the market. The company Morand is a well experienced distiller, get more information on the company and its product selection here.
This is a sponsored article in collaboration with Morand.