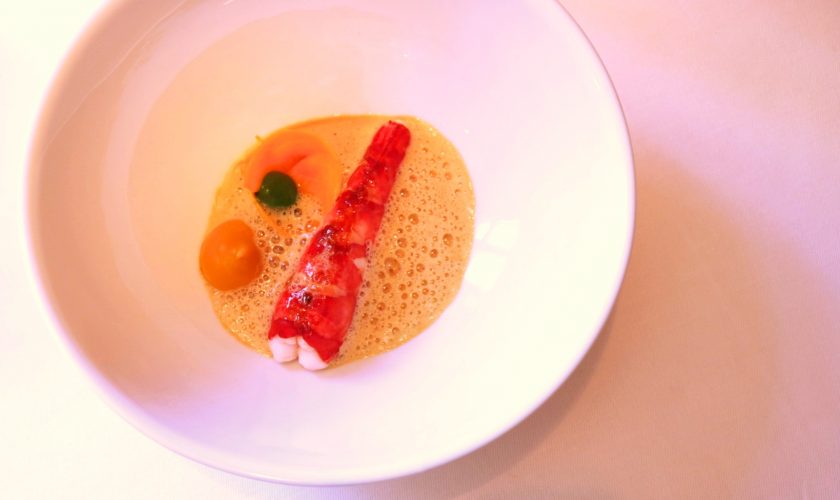 My personal highlight: Visiting Schloss Schauenstein in the smallest city of the world called Fürstenau, taking a flight through the Spanish Wine world, enjoying Molecular gastronomy from 3 Michelin Star Chef Jordi Cruz and excellent genuine Swiss Cuisine from 3 Michelin Star Chef Andreas Caminada
Sometime you need few words to describe the emotions that food transmits, the hight quality of the product speaks for itself. This is why all of my senses found a very natural flow during this very unique event at Schloss Schauenstein. Nevertheless, this blog story goes covers some details, so that you can get a feeling of what I experienced, too!
Together with a selected group of food passionate media colleagues we had the honor to experience how Spanish excellence in wines and gastronomy is best paired with Swiss excellence in cuisine. The Association Foods and Wines from Spain invited to this magic day at Schloss Schauenstein, the home of 3 Michelin Star Chef Andreas Caminada.
The special guest for this event: Chef Jordi Cruz from Spain/ABaC Restaurant Barcelona. He added the perfect Spanish touch with his modern interpretation as for example a dish prepared with molecular gastronomy (more on this in the article below). The wine part was presented by David Schwarzwälder (Golden Nose Award).  He made us fly to the diverse wine world of Spain with all explanations and recommendations.
Discovering award-winning Spanish red wines – best known and avant-garde – My highlight: The red vine Cerro Gallina 2015 – 100% Bobal grape
Going on the tasting with Golden Nose Winner David Schwarzwälder was a pure adventure. Every "Flight" as he titles the tastings, has its own touch. We all know fantastic Spanish red wines from the regions of Ribera del Duero (20'000 ha) or Rioja (63'500 ha).
Spain is the country with most hectares of vineyard in the world with 953.607 hectares vineyard, this represents the 13,8% of world's total hectares of vineyard. Most Spanish vineyard (61%) are devoted to the production of D.O. wines (quality wines). Spanish wine production stands for the 12,9% of total world production.
I am fascinated by the grape named Bobal. A dark-skinned wine grape variety native to Utiel-Requena in southeast Spain close to Valencia. The region encompasses three DOs: D.O. Valencia, D.O. Alicante and D.O. Utiel-Requena. Outside Spain, Bobal is grown in small amounts in the Languedoc-Roussillon region of France and the Italian island of Sardinia, where it is known as Bovale or Nieddera. Its name is derived from the Latin word bovale – meaning bull – and refers to the resemblance the grape bunches have to a bull's head. The region features two main types of soil, alluvial-river bed– and clay with limestone deposits. The Continental climate defined by long and cold winters and relatively short, dry and hot summers is homogenous throughout the region.
Take the flight Celebrating Ripeness!
The flight for the Wine Cerro Gallina 2015 100% Bobal was named: Celebrating Ripeness! This because the cultivation of this grape is challenging, due to its exposure to the climate. Production is made on 6 hectares here. Depending on the vintage and harvest, the production ranges between 10 and 15,000 bottles. It may be a rarity to get one of this bottle! I love the wonderful taste of black berries and fruits. Fresh, full-bodied and supple at the same time.

An exotic/organic flight: 1771 Casa Los Frailes 2013 – 100% Monastrell grapes
What I loved from this wine is the fact, that it s organic. The family estate Casa Los Frailes is located in the southern part of the Valencia DO, Fontanars dels Alforins. The main grape of the estate and region is Monastrell. The cultivation and growth of the vineyards here is done through the process of biodynamic agriculture, created by Rudolf Steiner. All vineyards and wines are certified by organic farming. With 130 hectares of own vineyard, belongs to the Association of wine growers and producers "Terres dels Alforins". The wine named 1771 is from the estate's oldest, most coveted vines of 85 years. It is elegant I tasted some fabulous coconut and pepper note. Sounds exotic, right? I love the fact that it has no sulfates.
When 4 magic hands meet authentic premium quality products
Let's start the aperitif with the most traditional Spanish delicacy, Jamón Ibérico de Bellota. The one we had is 5 year matured – Cinco Jotas Sánchez Romero Carvajal. I have shared with you the experience with this excellent product in my Seville travel story. Ibérico products are unique gourmet products from Spain due to their characteristics of their production, flavor and properties. The perfect pairing to this ham is the premium Cava Pere Venture Gran Vintage Brut 2012 GR.
It is made from 50% Macabeu and 50% Xarel·lo, that are old vines that through their fight to survive allow greater terroir character and complexity and a balanced taste.
Pere Ventura Gran Vintage 2014 has obtained the category "Cava de Paraje Calificado", the highest quality distinction for premium cavas in DO Cava based on the singularity of its landscape of origin and the high standards of the production process.
Cultivation takes place according to ancestral Penedès wine tradition. Its color is bright golden, on the nose: clearly very aromatically elegant, clean, fruity and citric with a dash of lemon zest as well as lime and mandarin. I love the very elegant bottle design.
After a detailed introduction into these precious Spanish drops the attention was all for the culinary creativity. We got spoiled with four parallel courses of the three-star chefs Andreas Caminada and Jordi Cruz. The culinary interpretation of both Chefs was a pure delight. High quality seasonal products as for example cheeses, herbs and fruits common in the Graubünden region combined with Spanish delicacies as Jamon Ibérico, sea food as the carabinero or the turbot as well as premium quality olive oil. Every course was accompanied by Spanish wines selected by David Schwarzwälder.
The menu at a glance
Appetizer:
White cabbage bowl by Andreas Caminada – Wine pairing: Sálvora 2011, Bodega Rodrigo Méndez
Starters:
Fals egg yolk with Iberian textures and parmentier by Jordi Cruz – Wine pairing: Tras da Viña 2015, Adegas Zárate
Carabineros 2 plates: Cold carpaccio with pickeld cepes and kalamansi. Warm Carabineros with nage and pumpkin crème and lemon confit and chili sauce by Andreas Caminada – Wine pairing: Escalada 2016, Adega Algueira
First course:
Swiss cheese dish and 12 fermented vegetables by Jordi Cruz – Wine pairing: Trossos Tros Blanc 2011 Magnum, Portal del Priorat – Alfredo Arribas
Milken coliflower by Andreas Caminada – Wine pairing: Pairal 2014, Can Ràfols dels Caus
Second course:
Turbot suquet & picada with romesco sauce by Jordi Cruz – Wine pairing: El Caribe 2016, Bodega Luis Pérez
Gams pear drypear beetrote by Andreas Caminada – Wine pairing: Rumbo al Norte 2015, Comando G
The resourcefulness and creativity of generations of Spanish mothers transformed scarcity or monotony of ingredients into culinary combinations that fed bodies and warmed souls
Dessert:
Fermented wind fritter with frozen vanilla by Jordi Cruz – Wine pairing: Moscatel No 2 Victoria 2016 Moscatel No 3 Old Vines 2014, Bodegas Jorge Ordóñez
Friandise by Andreas Caminada – Wine pairing: Brandy Single Barrel No 7, Ximénez-Spínola
I will always remember!
The highlight prepared by Andreas Caminada was the Gams pear drypear beetroot. The plate reflects purity and harmony. I love the way ingredients as the sea ​​buckthorn or the beetroot are integrated a pleasure for all senses.
The dish prepared from Jordi Cruz which absolutely amazed me: Pearls filled with different liquid cheeses. It is high level molecular gastronomy! This modernist dish consists of spherified liquid cheeses that remind of gruyere or a local mountain cheese for example. He used an infusion lightly acidulated with fermented veggies. This menu according to Chef Cruz is the sweet transition to the dessert.
My take home message from this Swiss Spanish experience
Food brings people together. It feeds our social connections and provides a space to discuss, to share and live. No matter if we do this at home with friends or in the restaurant or in a Tapas Bar. Experiencing it through skilled and creative Chefs opens even more the horizon of the varieties that can be created in a kitchen.
A warm thank you to Foods & Wines from Spain and Woehrle Pirola for the perfect organization of this event.
Foods & Wines from Spain is a brand created by Spanish Trade & Investment government agency www.icex.es to promote Spanish foods and Spanish wines in the international markets. Find more about it here.
Foto credits: Foods and Wines from Spain