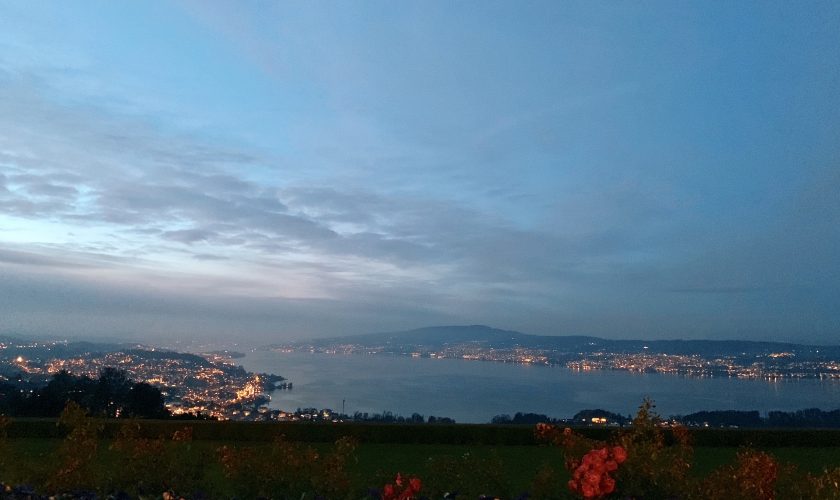 My personal highlight: Relaxing mind & soul in a secret hideaway – Enjoying Contemporary Thai food with a unique view overlooking Zurichlake in a sea of lights!
Where do you travel to if you are in the mood of a Spa Weekend? Sometimes a short car drive is preferred. The hideway has to be away from the city hustle. Th wellness resort Panorama Resort & SPA in Feusisberg is what you are looking for.
Here fascinating worlds of harmony and balance come together. Its location is fantastic. High above Lake Zurich you will find enjoyment, relaxation and a warm hospitality. The view is magic to admire either from the infinity pool, from the hotel room or by having dinner at the Contemporary Thai Restaurant Loy Fah. In their Rooftop bar called Mongomoon Sky Bar for a moment I thought to be in Bangkok. Watch the movie to understand why!
What makes The Panorama Resort & SPA special?
Being countryside makes one immediately feel serene because the pace is slower! No matter if the desire is relaxation of mind & body, excellent food ora a romantic weekend. Feusisberg is a small village about 35 kilometers distant by car from Zurich, easily to reach by train in less than an hour. The place is known for being the ideal conference place, too.
An absolute highlight is the infinity pool. It's heated up to 30 degrees. I could not stop keeping my eyes away from all of the little bright lights shining over the lake!
The Akari SPA offers all you need when it comes to spoil your body. Find a wellness paradise on over 2000 m2 including outdoor & indoor pools, whirlpools, jet bubblers, seven different saunas and steam baths, foot whirlpools, cozy rest areas, a healthy spa buffet, spacious outdoor area and a professional gym. Absolutely try the offer of massages, too. It's the cherry on the top after a wellness day.
Find their weekend specials as of 310 CHF/night (Book until Dec. 21, 2018). More details are available here.
Panorama Resort & SPA in a glimpse
102 luxurious rooms & suites
Price start as of 200 CHF (classic Single room, incl. breakfast)
Contemporary Thai Restaurant Loy Fah with a stylish Mangomoon Sky Bar at the top of the resort, as well as the gourmet Restaurant "Collina"
10 plenary rooms & 8 meeting rooms of various sizes, all with magnificent views over the Lake of Zurich
 Ideal place for wedding reception or other family celebrations
Wellness & Spa on over 2000 m2S
a hearty and service oriented staff
Accommodation
The hotel offers 102 modern rooms in different categories. I found the ambience in the Asian Junior Suite very warm decorated and spacious. The interior is equipped with natural materials as wood and fabrics combined with matching light colors.  Find all details for the booking here.
Food & Drinks
Try one of the three different restaurants or get a fancy drink with typical Thai ingredients as ginger, mint, butterfly pea flower or essences of lemon grass at the Mangomoon Sky Bar. For food there is a choice between the Restaurant Collina, the Contemporary Thai Restaurant Loy Fah or the Restaurant Körnlisegg, about 15 minutes drive from the hotel.
My experience at Contemporary Thai Restaurant Loy Fah
The interior at Loh Fay Restaurant is astonishing. Its design radiates cosmopolitan flair, at the same time it embodies the culture of Thailand. Loy Fah Thai Chef Pich Tongurai and his staff spoiled us with a 4 course dinner, a delight for belly and eyes. Get an interpretation of traditional Thai cuisine in a surprising way. Authentic ingredients of the highest quality and freshness are used: Explore exquisite seafood or extravagant vegetarian dishes. No problem if you are more into meat, everybody finds the perfect choice.
4 course dinner to recommend
Appetizer
Tuna Tatar "Laab" – A fresh Tuna tatar with spices from the north-east region Isaan, with crispy fried mushroom & tapioca chips
or
Ceviche salad "Share Nham Pla"- Thai style king fish ceviche (raw) with lemongrass, sea grapes & chili lime dressing
First course
"Tom Kha" Cappuccino – comes with Galangal root and coconut broth, Thai herbs served with a grilled scallop
or
Pomelo Salat Vegi "Yam Som O" – Thai pomelo salad with grilled palm hearts, toasted coconut flakes & Thai basil
Second course
Sea bass "Pla Ob Kamin"  – In baking-paper steamed sea bass "Thai papillote" with Thai vegetables, turmeric & galangal root butter
or
Beef Curry "Massaman Nua" – Braised beef cheek in Mussamun curry, coconut gnocchi, edamame bean salsa & cashew nuts
Dessert
Mango-Stickyrice "Khao Niau Ma Muang" – Comes with a spring roll, flamed mango & black sesame ice cream
or
Thai Sago Pudding "Phuket Style" – The pudding (tapioca) comes with young coconut and mango ice cream
The restaurant is open from Wednesday to Sunday from 6 – 11 pm. The costs from the menu (set menu or free selection from the menu) are for the 3 course menu 80 CHF and for the 4 course menu 95 CHF.
My personal highlight: the Beef Curry "Massaman Nua". The beef cheek was extremely tender and the exotic coconut gnocchi combined with a not too intense curry an the ideal contemporary interpretation.
Absolutely try the SPA buffet, too. I loved the fact that plenty of products, including the breakfast buffet are hand made and very genuine in the taste. The scrambled eggs were super creamy, the jams and the "Butterzopf" of excellent softness.
In the mood to get inspired by other travel & food stories? Find more here.