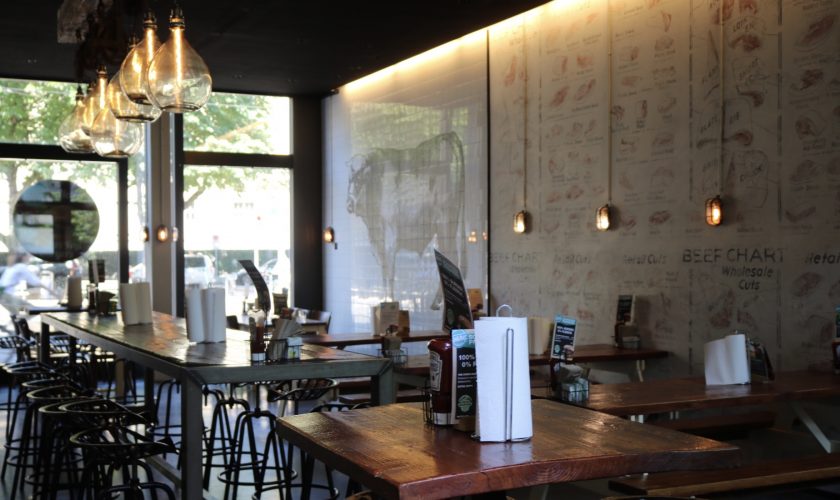 My personal highlight: Stepping in the kitchen at "The Butcher", getting introduced to all properties to prepare a real juicy burger
My passion as a foodie is to be there where the magic happens: In the kitchen! A big thank you to all of the staff at The Butcher Badenerstrasse, that made this happen. I can now much better understand the work in a Burgerkitchen! Quite a lot of procedures the cooks follow to prepare the perfect burger.
A large part of the dishes can be ordered as gluten-free variation or low carb without bread!
The base for the perfect burger are high quality and fresh products. The Butcher uses regional Swiss Meat. A paddy has 140g and comes always medium cooked!
A highlight for all Vegan lovers is The Greenmountain Burger that is 100% plant based and produced in Switzerland (Graubünden). It is rich in proteins and fibre made of organic soy, pea and wheat proteins.
Available with a vegan bun. I personally recommend their traditional bun. It is one of the best in town and has a crust that is super tasty due to its beer marinade! At Badenerstrasse you can enjoy your burger in the lovely outdoor terrace!
From the moment of the order at the table it takes only 7 minutes until you get your burger on the plate!
Try the Guest favorite: Bacon & Cheese Burger
Get a variety of burgers from classical beef, Chorizo Beef to Pulled Pork BBQ and Caesar's Chicken. Absolutely to try the Goat Cheese Burger, too!
My favorite is the classical Bacon & Cheese. The cheese mixture is a secret mix, the cheese doesn't melt and is mild but aromatic and is places on some flavorful caramelized onions. Every burger comes with fresh lettuce, tomatoes and special sauces! The fries are made of local swiss potatoes. A secret for you: The same potatoes as the legendary Zweifel Chips! Order their home made ice teas as the ideal non-alcoholic refreshment or some regional craft beers.
Burgers vary between 13.30 CHF (simple Butcher Burger) to 18.30 CHF for the Bacon & Cheese to 20.30 CHF for the Chorizo Beef & Cheese.
Address: Enjoy The Butcher offer at several spots in town, also available as outdoor delivery!
Zurich Badenerstrasse (the one I was), Badenerstrasse 101, 8004 Zürich
Zurich Altstetten, Altstetterplatz 11, 8048 Zürich
Zurich Niederdorf, Stüssihofstatt 15, 8001 Zürich
Zurich Heinrichstrasse, Heinrichstrasse 239, 8005 Zürich
Zurich Oerlikon, Hofwiesenstrasse 363, 8050 Zürich
Zug Metalli, Gotthardstrasse 2, 6300 Zug
Bern, Aarbergergasse 36, 3011 Bern
Opening hours: (check them online to be sure for each location) Monday – Wednesday, 11 am to 11 pm, Thursday – Saturday, 11 am to 12 pm,
Sunday: 12 am to 11 pm.
In the mood of more food inspiration? Get them on my food guide!