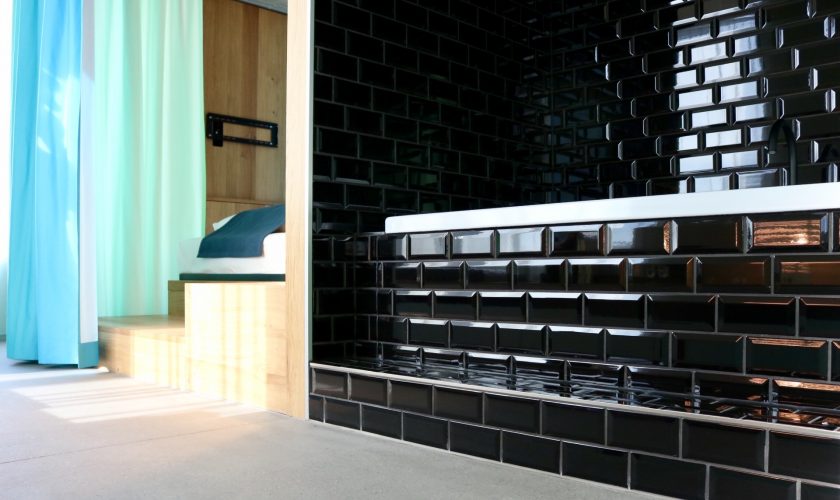 My personal highlight: Living the urban nomad style in between of Langstrasse and Europaallee in Zurich by getting involved into NENI's food philosophy and the Balagan lifestyle. Christoph Hoffmann's & Haya Molcho's life attitude is viral!
People who do not know this area of Zurich will love it right away. Langstrasse Kreis 4 meets Europaallee Kreis 5. The diversity is astonishing. Walking through Langstrasse you understand what I mean. It's the most multi cultural area of Zurich including a red light district and plenty of amazing young art.
Across the other side to Europaallee you feel the new trend towards modern office spaces, local designer stores and fancy popup stores.
The best premise to open up a pocket universe
Who better than the creative heads at 25Hours Hotels could perfectly put into scene the vibrant changes of these two Zurich areas and merge them into a hotel concept? That is how 25 Hours Hotels Zürich Langstrasse was born.
Christoph Hoffmann, CEO of 25Hours Hotels and his team cooperated with local architects E2A and the interior Design Studio Aisslinger from Berlin. A fancy, stylish but very practical and surprising surrounding is the result.
Since art is an important topic in this Zurich area you get to see big pieces of art spread all over the house.
An in-house atelier lead by the Zurich artist Esther Eppstein has its base in the hotel. Esther invites and promotes young artists and coaches them on a defined project.
Find a Kiosk curated by local Media publisher KEIN & ABER VERLAG. Get selected books or fancy accessories.
This is 25 Hours Hotel Zürich Langstrasse
170 rooms in the categories M, L and XL as of 270 CHF
meeting space for up to 80 people on various floors
NENI Restaurant with eclectic east Mediterranean meze inspired by Chef Haya Molcho. The menu includes meat dishes from the charcoal Josper-Grill
Cinchona bar with fancy Highball drinks by Jörg Meyer
Artists studio "Message Salon Embassy" lead by Esther Eppstein – artist in residence
Zurich Publisher Petter Haag from Kein & Aber Verlag with an inhouse Kiosk & Books
trainspotting-sauna incl. gym
club floor to relax with analog game room as a polaroid flipper box, sound lounge
ue boom bluetooth speakers and FREITAG Bag in all rooms
iMac work stations
free of charge mini car and bike rental
a hearty and service oriented staff that makes you feel home away from home
Accommodation
Find 170 modern and stylish, urban designed rooms in the sizes M, L, XL and 2 suites. The rooms follow different themes on different floors. Live the topic "Red Light", "Belle Etage" and "Penthouse" brought into scene with extravagant, appealing wallpapers designed by local artists. Natural materials are combined with warm colors and stylish, functional furniture. The hotel cooperates with the famous Swiss furniture brand De Sede, too.
I love the bath tube overlooking Zurich's Primetower or the glassy open shower where you live the modern open space. Find all details for booking a room here.
Food & Drinks
The cherry on the top is the NENI Restaurant following the life philosophy of Haya Molcho and her 4 sons. An eclectic east Mediterranean cuisine is created inspired by a Street food style from Telaviv and the world. Get a variety of light and flavorful lunch and dinner menus.
Try the Balagan style, which means that you order several plates and share them together!
The open bar at the kitchen invites to catch an insight how Chef Peter Schüler and team prepare the food for you. Or just talk to the guest next to you.
A uniqueness of 25 Hours Hotels food concept Langstrasse is the Josper Grill. Get local quality dry aged meat grilled on a 100% charcoal grill.
The house bar Cinchona is where world experienced Barkeeper Jörg Meyer introduces guests to a new trend of "day drinking". Taste the daily changing variety of Highball drinks with best local Vermouth, Sherry or port mixed with tonic water and citrus fruits. The two big ice balls keep your drink at the right temperature and coolness.
Seminars, Events working spaces
A cozy corner with a chimney invites to relax and read a book on the main floor. The hotel offers a lot of space to relax and work. Spaces can be rent and used for conferences or private events, too.
The club floor on the first floor throws you back in time. Find analog game room as a polaroid flipper box or a sound lounge and additional working or event spaces.
My personal highlights
Getting to know Haya Molcho and feeling her passion for food is delightful. She is a person full of energy and ideas transmitting the Balagan style. On of her sons laughs and confirms, that she is really Balagan. This Hebrew word means: sympathetic chaos! NENI is a word play out of her 4 sons names. Nuriel, Elior, Nadiv and Ilan. The name reflects their philosophy of life. NENI is a passion paired with openness and love for food. Eating is always done at a large table with the whole family and many friends. That is what you feel when talking to Haya Molcho in person. That is also what you feel when entering at NENI Restaurant at 25 Hours Hotels.
The Molcho Family runs several NENI restaurants within the 25Hours Hotels in Europe. They make sure the NENI philosophy is lived in every NENI Restaurant. The Kitchen team at 25Hours Hotels gets regular coaching on how to prepare and maintain the NENI food philosophy alive.
Thank you for using the Lovefoodish food and travel guide.