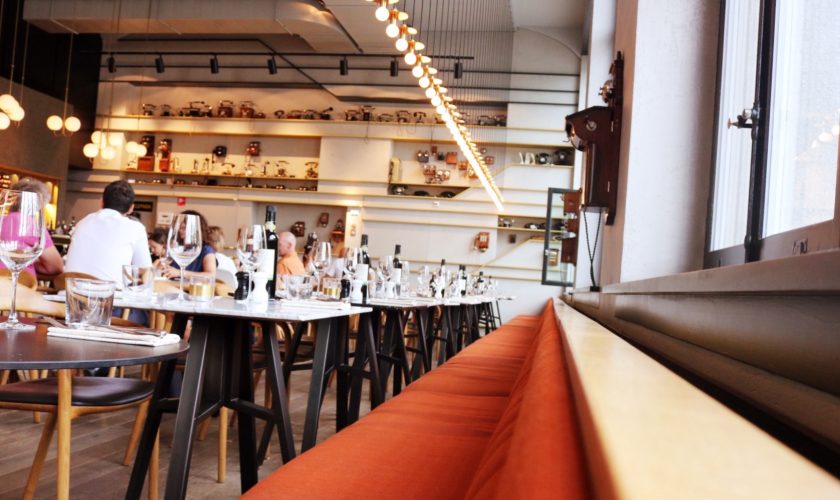 My personal highlight: Traditional Neapolitan Pizza – I am happy I have found you crispy & wood fired
Living in Zurich is absolutely a privilege. The choice of international food is diverse, you don't get annoyed so fast. Nevertheless, it took me a while to find a pizza place, that makes the pizza according to my desire and demand.
How a pizza should be if you ask my opinion
The pizza bottom thin and crispy, but slightly chewy on top, the tomato sauce fresh, ideally with San Marzano tomatoes grown in the rich volcanic soil. The cheese only premium Italian Quality Fior di Latte. It's a second variant of mozzarella created using fresh cow's milk. The alternative that can be used is Mozzarella di Bufala from the Campania region. This is made by using the fresh milk of water buffalos. Other cheeses do not belong on top of a pizza!
How to recognize the difference: the mozzarella melts and the Fior di Latte forms a string,
I have found a pizza following my requirements at Ristorante Più located at Kasernenstrasse 95 / Europaallee in the old Sihlpost. The restaurant belongs to the well-known family Bindella offering traditional Italian cuisine in several restaurant in Switzerland.
Talking to one of their Managers Davide Di Salvo made me immediately understand, that important ingredients are passion and care in the selection of every single ingredient. He shares with me the secret of the Fior di Latte used on their pizza. I prefer Fior di Latte on the pizza, since it is less fat than typical mozzarella and makes my stomach not fill full after the meal. The dough they prepare at Più gets enough time to rest, at least 48 hours, this makes the dough ideal to digest.
Did you know, that the art of Neapolitan pizza making has joined UNESCO's list of "intangible heritage"?
The Pizzaiolo team is from South Italy of course, I feel home sharing stories about food and observing them creating the magic that comes in a approx. 400 degrees heated wood fired oven. After only 3 minutes the pizza is crispy and ready for me. The ambience at Più is typical Italian. The building is spacious, stylish and with true Italian vibes. I feel happy here!
Choose between two basic pizza and create your individual one!
In the mood to choose by yourself what comes on your pizza? Try this concept at Più: order between the Marinara pizza (tomato sauce, garlic, oregano) and the Margherita (tomato sauce, fior di latte, basil) as the base. Get toppings to share with your friends. Grilled vegetables, parmesan cheese slices, bresaola, fresh tuna or rucola for example.
Try their antipasto with the burrata and the pane carasau. It is a unique, very thin crispy bread you would only get 1000 Km far away on a Sardinian Island! An absolute must. The matching aperitivo is the Apertas, it has some Aperol, lime juice and a cortese cedrata made of a very special Italian Lemon sort.
Do you like to enjoy a quality pizza to go, try their area next to the main restaurant. The pizza is smaller of course, costs start as of 9 CHF (marinara). In the main restaurant Pizza start as of 22 CHF (Pizza dello Chef with ham and champignons)
Soon I will be exploring their other branch at Schiffbau that has been recommended to me to be a unique place for other true Italian dishes.
Address: Kasernenstrasse 95, 8004 Zürich
Opening hours: Monday – Thursday:  11.30–14.30 / 17.30–23.30 uhr , Friday: 11.30–14.30 / 17.30–24 .00,  Saturday: 11.30–24.00, Sunday: 11.30–23.00
In the mood of more restaurants in Zurich? Get inspiration on my food guide here.